issa coulibaly began studying the djembe and dunun when he was 11 in his home city of bamako, mali. he worked with singer nahawa doumbia and can be heard playing percussion on 2 of her albums (yankaw & yaala). his skill and reputation allowed him to tour africa and europe extensively before emigrating to america where he now lives. issa continues to perform from maine to puerto rico as the lead drummer and musical director for various african dance troupes.
his debut 'foliba' (may 2009) highlights his flamboyant playing style, original arrangements of traditional songs, and amply demonstrates his solid vocal skill.
the sound quality is good except for the tonal colour of issa's djembe. it reminds me of the way abdoul doumbia's djembe was captured on his album
dembaya
- sounds short and tinny and doesn't do justice to issa's playing. the content, however, is really good. issa represents the style favoured by the younger generation in bamako, yet manages to caress the deep grooves of southern mali with their intoxicating swing.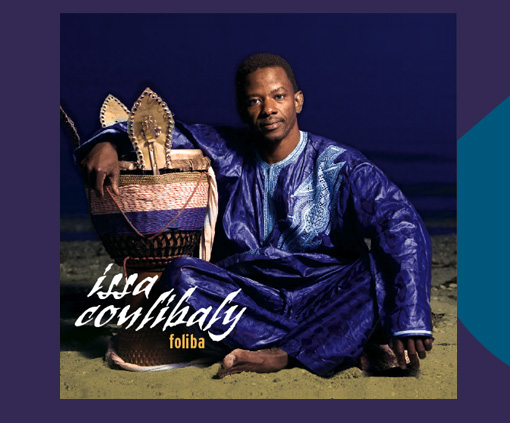 1. madan foli
2. didadi foli
3. soli
4. komo foli
5. sungurubani
6. sandia
7. zankoroni
8. manjani foli
duration: 49 min
available from:
issacoulibaly@hotmail.com
sample track: